PLEASE CLICK TO SEE
MY CHANNEL ON
To resize this page in most browsers
press CTRL + or CTRL -
on your keyboard
Just by looking at a lettered comic book page, most likely you wouldn't realize the amount of time and precision that goes into it. To be honest, neither did I at first. After reading a great deal on the subject, I found that it is considered a bit of an art in itself. Many say that you don't notice lettering, unless it's bad. That basically sums up the role of a comic book letterer -- to be unnoticed. The dialog balloons, caption blocks, and sound effects (which can range from plain, for just getting the point across, to extravagant artistic items on their own) must follow certain guidelines and not interfere with the art.
I have done nearly all the lettering for the comic book series CITY OF MITH (pictured above) which I also co-write/co-publish, and I try very hard to follow the guidelines established by Comicraft. CLICK the picture above to go to the Official CITY OF MITH website for many more full page samples (from two different issues) of my work. And while you're there, if you think our comic book is cool, please LIKE the Facebook page.
Generally, $10 per page, which is about the industry average. I say "generally" because every comic book is different. If you want spectacular custom sound effects, those take more time and cost a bit more. If your comic has huge blocks of text you would like sculpted in a particular way, or if you have tons of back-and-forth dialog between two or more characters in the same panel, again more time.
First, drop me an email (or call me) and tell me a bit about your comic book or graphic novel and we'll go from there.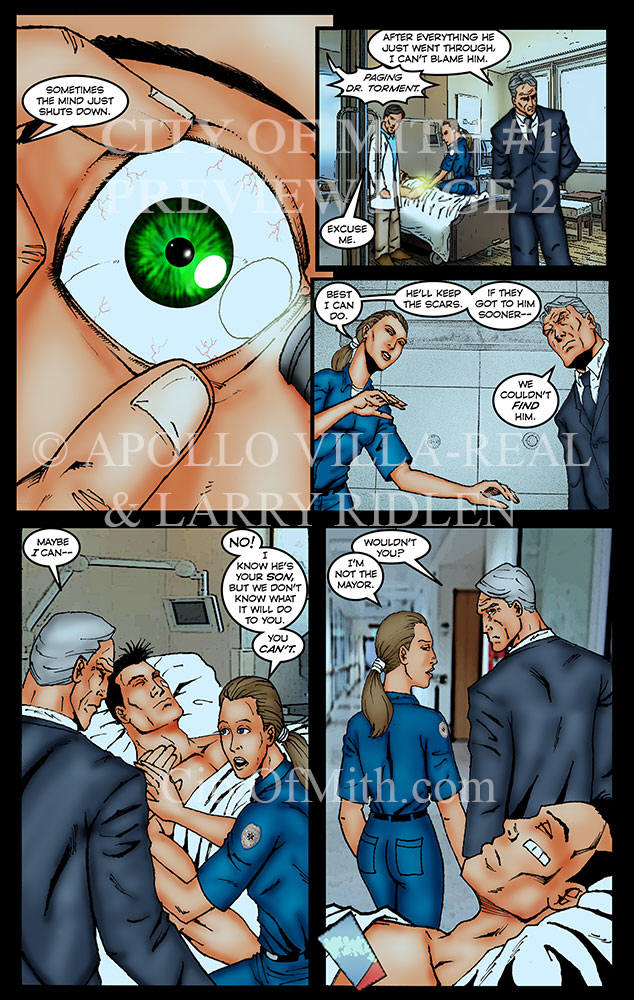 BY THE GUY WHO LETTERS CITY OF MITH